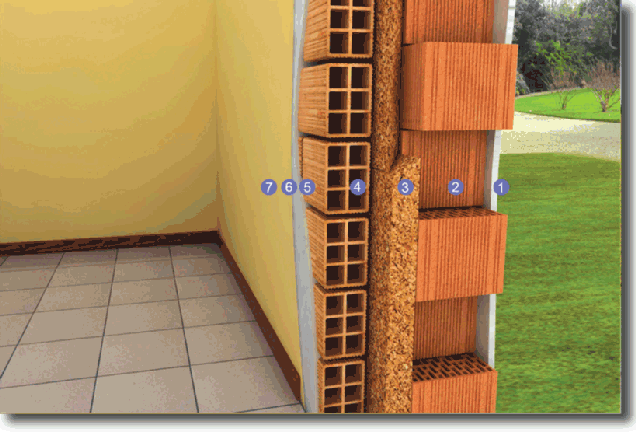 Stratigraphy
1) External plaster
2) Concrete block
3) Cork panel
4) Hollow brick
5) Plaster
6) Thin plaster
7) Traspirating paint
Suggestions
Insulation carried out with the classical hollow space method, excellent for sound and thermal insulation.
Voci di capitolato
L'isolamento della parete verrà eseguito con pannelli in sughero naturale compresso ad alta frequenza SENZA COLLANTI (tipo SLIM) di colore biondo, privo di impurità, con bordi smussati a tronco di piramide, o a taglio dritto con peso di 140-160 kg/mc circa.
I pannelli verranno interposti tra la parete di tamponamento esterna e la parete interna.
I pilastri e le travi in cemento armato posti sullo stesso piano del tamponamento dovranno essere isolati con pannelli in sughero supercompresso (tipo ASSO), aventi spessore di mm 10, 20 e 30 mm e peso di 300 kg/mc circa.