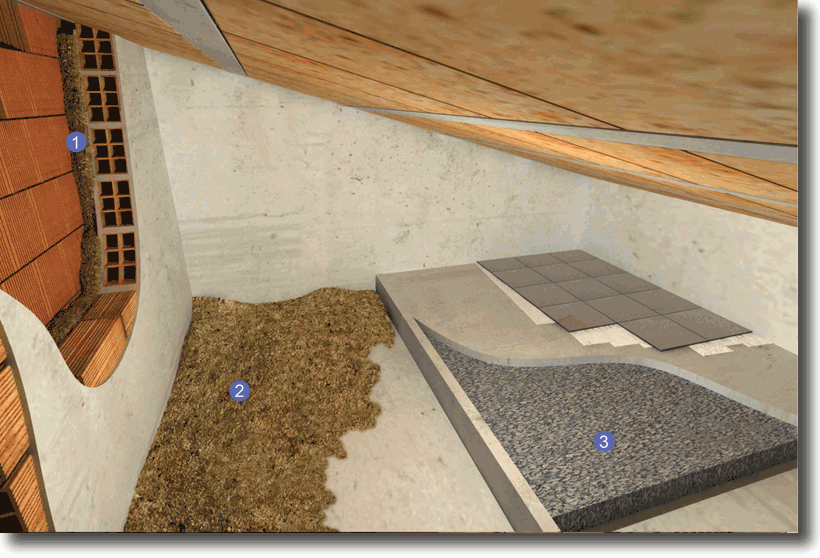 Stratigraphy
1) Insufflating the existing cavity walls
2) SUGHERLITE melt on the attic
3) SUGHERLITE mixed with concrete and water as necessary
Suggestions
Pay attention not to leave empty spaces while insufflating SUGHERLITE into cavity walls.
Make sure you lay a sufficient layer of material on the attic floor, in order to permit a good grade of insulation
How to use
Every cubic meter = 6 bags of product mixed with 300 Kg. of 325-type concrete in the concrete mixer.
MIXABLE WITH COMMON LIME, CONCRETE, OR SODIUM SILICATE

Scheda tecnica
In granuli = 0,043 Wmk
Impastato = 0,078 Wmk
Densità kg 100/110 mc
Resistenza alla compressione kg. 24 a cmq ca. amalgamato con cemento a 325
Assorbimento acqua
Tempi di asciugatura (come cemento)
Isolamento termico-acustico
Peso totale circa 400Kg/mc
Cappa di finitura min. 3 cm. con rete di armatura
Per massetti di spessore superiore a cm. 5 si consiglia di effettuare la posa in due fasi avendo cura di aspettare l'asciugatura del primo spessore.