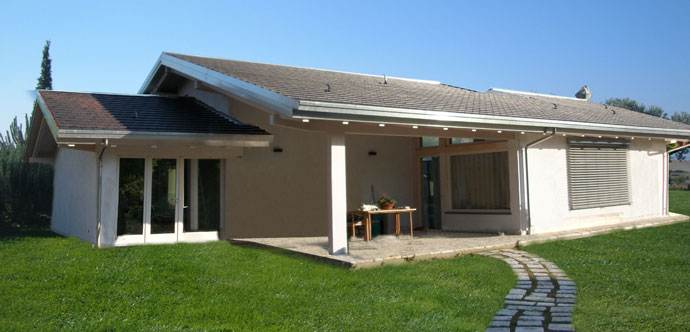 The future is here
Here is a sample "real" made of wood, isolated new house with cork panels LIS
Top 10 advantages of "Future House"
Durable and resistant
All natural (wood + cork)
breathable
Resistant to earthquake
Comfortable
Soundproof
Economic
No trace of moisture
High levels of energy saving
easily accomplished
Materials and procedures
• Stalls reinforced concrete.
• Wooden pillars regularly arranged around the perimeter, already prepared with the necessary slots and placed in stainless steel cages made integral to the armature of the audience.
• Tavolati wood or wood panels already compressed shaped (door or window shape beams) inserted into grooves made in the pillars (making up the wall).
• The outer coat made of SLIM cork panels of various thicknesses to cover the wooden walls.
• Outer shell with the pillars of SLIM cork boards with a thickness to compensate.
• Inner coat made of cork SLIM panels of various thicknesses to cover the wooden walls.
• Indoor coverage exposed pillars, with SLIM cork panels to offset thickness.
• Cutting of cork panels and drilling of the wooden walls for the insertion of implants.
• Electrical and hydraulic insertion.
• Closing of the tracks and grouting of cork panels (external and internal).
• Application of fiber network with mowing end.
• Application of plaster finish.
• Painting with breathable paints.
Our "mechanical" roof
How easy it will be to build and insulate the walls of our wooden house, just as easy will create a cover that will enable us to obtain assurance that we want and the savings in energy that will make us live our house in total serenity. A real "mechanical" roof, given its ability to "debunk" what we have built. Above the cover made with wooden panels, it will install a double layer of SLIM natural cork panels with a simple screwing operation. Between the two layers it will be positioned a breathable sheath. The perforated tiles will be anchored with screws to the first cork panel.