Heat:
thermal energy (Q); unit of measure: calorie: amount of heat energy required to raise one degree Kelvin the temperature of a gram of water (from which 1 kg to: 1 kcal = 4.18 kJ)
Thermal power:
exchanged thermal energy unit of time (W = Q / t); Unit: watt: J / s (1000 kcal / h = 1.16 kW)
Specific heat of a material:
amount of thermal energy required to raise the temperature of one degree Kelvin of a gram of material (Ce); Unit: J / kgK (1 kcal / kgK = 4.18 kJ / kgK)
Capacity or thermal mass:
in a body of mass m, the quantity of heat required to raise the temperature of one degree Kelvin; Unit: J / K (1 kcal / K = 4.18 J / K)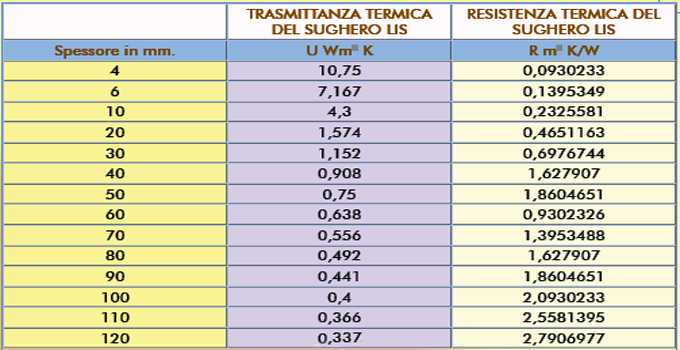 DENSITY
(See data sheet of the panel)
THERMAL CONDUCTIVITY
0.043 W / mK
RESISTANCE TO THE SPREAD INDEX VAPOR
? = 10
ABSORPTION WATER DIVING WITH CONSTANT TEMPERATURE
After 3 days. 19.4% vol.
After 28 days 34.4% vol.
WATER ABSORPTION FLOATING WITH CONSTANT TEMPERATURE
After 3 days. 1 1.9% vol.
After 28 days. 28.8% vol.
ALTERATION DIMENSIONAL SHIFT FROM ENVIRONMENT FOR DRY WET (35% RH 90%)
+ 11.5%.
DIMENSIONAL ALTERATION TO MOVE TO DAMP DRY (35% – 90% Ur)
-1 1, 7%.
DIMENSIONAL VARIATION
The coefficient of linear expansion is 62 x 10-6 mm / "C.
In ambient temperatures between 20 ° C and 65% Ur subjected to conditions of 20 ° C and 95% Ur agglomeration accuses a variation max of 0.60% in 12 days. with a tendency to stabilize.
At the end of 12 days. It tends to recover decreasing to about 0.26% of linear expansion up to return to the initial conditions.
ABSORPTION
The speed of sound through the CORK LIS is 450-500 m / s. >
For airborne sound, with a thickness of 3 cm. we have a reduction of 32-35 dB.
For noises underfoot we in a reduction of about:
– 20 dB in low frequencies
– 40 dB midrange
– 30 dB in the high frequencies
For reverberation:
– In the empty romm of 200 cubic meters. 0.5 sec.
– In the empty room of 500 cubic meters. 0.6 sec.
ELECTROSTATIC BEHAVIOR
Cork is anti-static.
COMPRESSION TENSION WITH SHORTENING 10%
0.22 N / mm2
TRACTION RESISTANCE VERTICAL
The surface of the platters 0.16 N / mm2
SPECIFIC HEAT (CAPACITY THERMAL MASS)
1900 – 2100 J / kg K (at 20 °)
RESISTANCE TO HUMIDITY
Its permeability to water vapor at 23 ° C with Ur 85% 0.21 g / m h mm Hg.
FIRE
Weakly flammable and slightly smoky. It 'very important to emphasize this physical characteristic about the reaction of natural cork compressed LIS to the fire! Naturally the flames never destroy the cork, and in the TEST now made in the entire ilmondo, the results were always the same: the surfaces with a velocity of propagation of the flame very low or almost nothing.
REACTION TO FIRE (ITALY)
Class 2; self-extinguishing.
NORMA TI VE AFNOR
Class M 2 = Without fire
Class F 2 = No smoke
ANTIVIBRATION.
To limit and reduce the vibrations caused by industrial machines or moving machines, you may want to use the cork with the highest density (300 Kg / mc.) Because it is able to better withstand high pressures without deformation.
STABILITY TO AGEING
Virtually UNLIMITED, even under harsh conditions.
RESISTANCE TO CHEMICALS
Good water resistance, hydrochloric acid, sulfuric acid and lactic acid to 1 O%; concentrated citric acid, benzene and ethyl alcohol; slightly degrades to acetic acid, ammonia at 10%, to ethyl acetate and to trichlorethylene.
Degradable by soda used to 0% 1
RESISTANCE TO BIOLOGICAL AGENTS
Development cryptogamic after 28 days. (According to evidence AFNOR X 41-504).
RESISTANCE TO COMPRESSION
(See data sheet of the panel)
Stickiness' INSECTS OR RODENTS: NOT EDIBLE